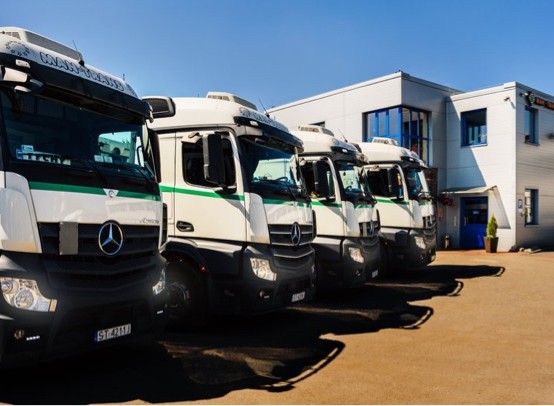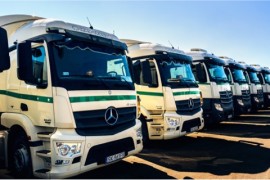 Transport drogowy kruszyw i materiałów budowlanych
Od początku powstania firmy wiodącym rodzajem działalności jest transport i sprzedaż towarów masowych, materiałów budowlanych oraz kruszyw. Swoje usługi świadczymy na terenie całego kraju. Posiadamy wymagane licencje na wykonywanie transportu krajowego, jak i międzynarodowego oraz ubezpieczenia OCP przewoźnika i ubezpieczenia odpowiedzialności cywilnej. W ciągu tak długiego okresu funkcjonowania zdobyliśmy bogate doświadczenie, które owocuje coraz liczniejszym gronem partnerów.
Dysponujemy sprzętem transportowym i budowlanym
Baza transportowa 
Znajduje się w podstrefie tyskiej Katowickiej Specjalnej Strefy Ekonomicznej przy ul. Fabrycznej. W skład bazy wchodzą wydzielone na sekcje miejsca parkingowe, nowoczesna myjnia samochodów ciężarowych, stacja tankowania paliwa, dyspozytornia wraz z pomieszczeniami socjalnymi oraz zaplecze warsztatowe.
Na szczególną uwagę zasługuje grupa doświadczonych mechaników, gotowych do usunięcia każdej usterki, zarówno w nowocześnie wyposażonym warsztacie, jak i również na trasie – umożliwia to w pełni wyposażony samochód serwisowy.
Transport kruszyw – Śląsk i okolice
Firma Man-Trans oferuje transport kruszyw, towarów masowych i materiałów budowlanych na terenie województwa śląskiego i okolic. Nasze atuty to doświadczenie, terminowość i solidność. Jeśli interesuje Państwa usługa transportowa, zapraszamy do kontaktu telefonicznego, mailowego lub poprzez formularz dostępny na stronie.